Well done Nigel Garner!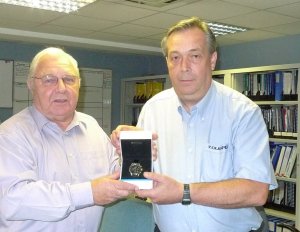 It's watch time for Nigel Garner who's "clocked" (!) up an impressive 25 years working for Dugard.  I'm sure many of you know him as he's been one of our most prominent service engineers since 1988.  
When Nigel started at Dugard he was out and about on the road as a Field Service Engineer, commissioning new machine installations, regular machine service as well as breakdowns.  He's also done a lot of exhibitions with us in the build up and break down periods which is hard work but it's great to know the machine part of the exhibition process is in such capable hands.
Nigel's immense experience is really valuable – we couldn't spare him from the office forever so we gave him a desk! His current role is Senior Service Support Engineer – if you've got any problems or queries and need to speak to someone for advice it's often Nigel who will take your call. It's not just the years of experience that make Nigel such a good team member, he's very patient and thorough so each call gets his undivided attention.
We're all really proud of Nigel and pleased that he's been happy to work with us for so long – thanks Nigel, we hope you stay for a lot longer!