The Dugard open house is nearly here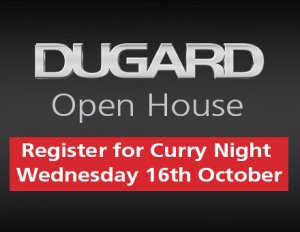 Our open house kicks off on Tuesday 15 October – so with only a week to go it's action stations here at our head office in Hove.
We've got plenty to show you with the Samsung machines straight from EMO as well as all our brand new Dugard machines; the Dugard 760E and Dugard 1000E low cost VMCs; Dugard X5 five axis VMC with Nikken table; Dugard 65TTSY multi-axis CNC lathe; and the Dugard Academy 446 multi-function teach lathe.
We've also got stock of all our key machines from the Dugard range including the Dugard 1000Y Plus VMC with extended Y axis travel and Big Plus tooling ; Dugard 32 multi-axis sub spindle CNC lathe; Dugard HD1886B heavy duty VMC with reverse axes table design so the footprint is 40% smaller than other VMCs. As you know, if the machines are in stock in Hove they're ready for immediate delivery so, if you want you can get your new machine delivered immediately.
We're being joined by the team from Sandvik throughout the open house who have supplied tooling for some of the demonstration machines. Sandvik will be showcasing the Modern Art of Milling and Green Light Machining. The Modern Art of Milling is based on choosing the right tools and application techniques for machining component features with the latest technology milling products, while Green Light Machining demonstrates ways to reduce cost per part by increasing efficiency, resulting in increased throughput and lower cost per part (and includes demos of Silent Tools products).
Anyone who's been to our open house events before knows that the best day to come is right in the middle as we always host a curry night on the Wednesday. This time is no different as Indian Summer are coming back to cater the event on Wednesday 16th October so make sure you register for curry night to get a good feed!
While you're here, remember to follow us on Twitter (find us @Dugardcom), connect with us on LinkedIn (C Dugard Ltd) and subscribe to our YouTube channel – just to make sure you don't miss any updates about what's going on at Dugard