The new Dugard HSM600 simultaneous 5 axis vertical machining centre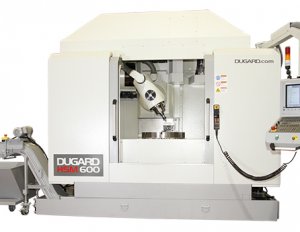 New Dugard HSM600 – simultaneous 5 axis vertical machining centre
With a compact footprint and a competitive price, the Dugard HSM600 is going to be hard to beat.
The latest addition to the Dugard brand the HSM-600 has filled quite a large gap in the current range until the arrival of the HSM-600 there has only been one 5-axis model in their range (Dugard X5). The HSM-600 is Dugard's newest 5-axis simultaneous machining centre with a standard B-axis swivel head and integrated C axis rotary table. The machine can also be supplied with a horizontal A-axis for blade type manufacturing.
The Dugard HSM600 has all the benefits of a high speed VMC. It offers the user the opportunity of five face or five axis simultaneous machining on a generous 600mm diameter table which greatly reduces the cycle times for demanding and complex components. The HSM600 also has the unusual feature of a retractable 24/32 tool ATC system which leaves the working area clear of any obstruction when machining large components. This, together with the choice of Heidenhain or Siemens multi-axis control system makes for a very competitive package as all these features occupy approximately the same floor area as a conventional VMC-1000.