New Dugard E Range of cost effective VMCs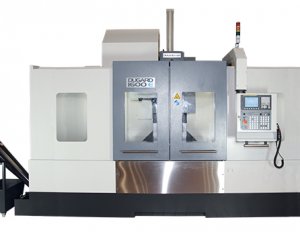 At Dugard we're expecting big things from the new E range of VMCs. Like their predecessor, the ECO range, they're incredible value for money, and like the ECO range we've got a comprehensive choice of bed sizes ranging from 760mm right up to 2000mm.
The ECO range has been a great set of machines for us – technically they're exactly what our customers want, and the price always seals the deal. It was time for the ECO machines to evolve though and we're really pleased with the result. The new E Range has the same fantastic affordability as well as an updated spec which just goes to show we never stop looking for ways to give our customers more.
Each model is sturdy (with a heavy cast iron construction) as well as having a compact footprint – the 760E measures only 2100 x 1935mm.  All the models in the new E range feature a pneumatic counter balanced head, swarf auger and twin arm automatic tool changer as standard (the larger models also have spindle refrigeration) as well as increased speeds and tool capacity from their ECO range counterparts.
The range features X travels from 762 – 2000mm; Y travels from 430 – 850mm and Z travels from 460 – 850mm. The spindles speeds range from 20 – 11,000rpm and rapids go up to 36m/min. The 760E now has an ATC with 20 tool stations with 24 stations on the larger models as well as 4th axis options throughout the range. There is also a wide selection of controls available including Fanuc 0iMD, Mitsubishi, Siemens and Heidenhain.
Described as "neat, tidy, sturdy and quick" and prices starting at £36,700, the new E range of vertical machining centres fills the (compact!) hole left by the ECO range perfectly. If you need any more information on the Dugard E Range of VMCs please contact sales@dugard.com and while you're here, check out their specs online: Dugard 760E; Dugard 1000E; Dugard 1350E; Dugard 1600E; Dugard 2000E