Do you qualify for the Regional Growth Fund?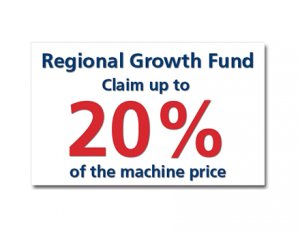 At Dugard we're always on the lookout for ways to give you a better deal and this time we've got a stunner!
Together with one of our finance partners we're able to accept grant applications under the Regional Growth Fund Scheme. Grants can be considered for those small and medium enterprises (SMEs) who aren't able to get finance themselves on a standard agreement (with a 10% deposit + VAT). The grant can pay up to 20% of the machine price, which, together with your 10% deposit, increases the deposit to 30% overall – significantly increasing your chances of being approved for credit.
You can apply for help from the Regional Growth Fund for most machine purchases over £36,000 as long as you meet the following criteria:
• Your business has a turnover of less than £35m and employs fewer than 250 staff
• The machine will add/safeguard jobs within 12 months and then for a period of at least 12 months
• Your business is located in England but NOT in London or the South East, Scotland or Wales
Contact one of our sales team to find out if you're eligible, then just choose your new Dugard machine!