Happy 45th Wedding Anniversary Bob!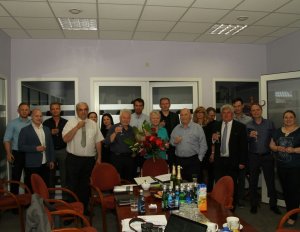 It's time for this year's Dugard trip to our sister company MTI in Poland for their AGM and, what a stroke of luck, the trip just so happens to coincide with Bob and Margaret Dugard's 45th wedding anniversary. 
Perfect timing for a big party in Rybnik this weekend then!  Unfortunately we don't have Bob and Margaret's wedding photo, but this is a good alternative.  It was happy faces, and a few bubbles, all round at MTI when they took a break today to present Bob and Margaret with some beautiful flowers to congratulate them on 45 amazing years together.
Obviously the team from MTI and our Dugard delegates have been working extremely hard for the last 2 days but now it's time to let their hair down. And they're not just celebrating Bob and Margaret's wedding anniversary, 2016 also sees an exciting 25th year in business for MTI. We're tremendously proud of all the fantastic work everyone at MTI do in the machine tool industry in Poland, and we couldn't be more pleased that they've reached a monumental quarter century. They'll be celebrating with a big company party tomorrow evening and of course we'll post an update next week with all the gossip.