MTI Poland celebrates 25th anniversary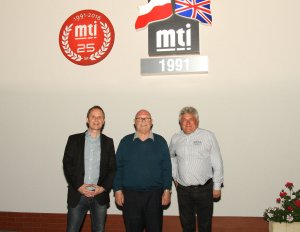 The MTI AGM in Rybnik at the weekend was a fantastic success. Eric, Bob and Paul Dugard, Richard Starzec and Olli Tyrvainen joined the team at our sister company in Poland to discuss performance for the last year, and they couldn't be more pleased. It was reported that 2015 was another record year for MTI, with MTI boasting the biggest sales in Europe for Hyundai-Wia machine tools.
The good news came at just the right time as Eric and the Dugard team had also gone to Poland to celebrate MTI's 25th anniversary. They've got a great team at MTI – similar to ours here at Dugard in that employees tend to stay with the company a long time. Obviously that gives them loads of opportunities to grow their skills and experience, but it also means they're a tight knit group, who work really well together and have a lot of respect for the company. That environment was clear to see at the party on Saturday night, a whole day affair where everyone's family was welcomed and people danced on into the night.
Eric and Bob were enormously proud when they came back to the office this week, so congratulations MTI Poland, we look forward to another 25 years!