Dugard announce 2013 open house – and you're all invited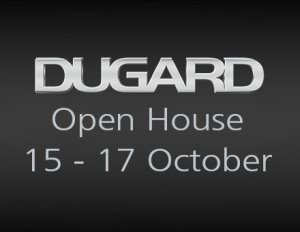 It's an exciting time at Dugard – we've got a Samsung packed stand at EMO and now there are some great new models for us to show you at the open house.  
The first is a welcome addition to the 5 axis VMC range – the updated Dugard X5 with Heidenhain control and Nikken table.  Next are the Dugard 760E and Dugard 1000E they join the ECO range of cost effective machines that have been so successful for us in the last few years – they've got BT40 spindles and Fanuc, Siemens or Mitsubishi control options.  We're also taking the opportunity to highlight the Academy range of manual and CNC machines, starting with Dugard Academy 446 multi function lathe – it's got a Siemens control and an 8″ chuck.  Then, as Samsung Machine Tools are so popular at Dugard we're really pleased to have a brand new Samsung PL1600MC to show you, (it wasn't even at EMO) – with Fanuc control, 10,000rpm and 24 station twin arm ATC it's an impressive piece of machinery.
So the open house is really shaping up to be quite an event!  Remember to register for the curry night on Wednesday 16th October, and if you're a student drop us an email to find out more about our Academy event on Thursday 17th October – see you all soon!
It's a busy time for us in Hove as we get ready for EMO (Hannover, 16 – 21 September) but we realise it can be tricky to take time out of the office to come all the way to Germany. With that in mind we've just confirmed the dates for our bi-annual open house.
We've decided on 15 – 17 October, and of course it'll at our head office here in Hove. And yes, for those of you who've been to our open house in the past, we'll be having a curry night on the Wednesday catered by Indian Summer! Make sure you register for curry night here, just so we don't run out of food!
So put the open house dates in your diary and if you can make it we'll see you in Hannover as well! If we've got anything good to tell you about we'll put it on the website, tweet about it, post on LinkedIn, all that malarkey – so remember to check in with us, and while you're at it follow us on Twitter (find us @Dugardcom), connect with us on LinkedIn (C Dugard Ltd) and subscribe to our YouTube channel.