Jenkins Engineering opt for heavy duty VMC from Dugard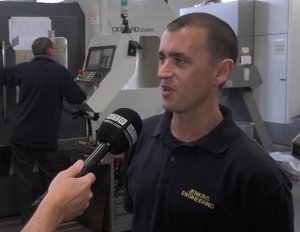 Jenkins Engineering has recently opted to invest in a Dugard HD1886B machining centre.
As a business that was established in 1979, the Maidenhead Company has a long established reputation for high quality subcontract production for the automotive, aerospace, rail and offshore sectors.
Alluding to why the company opted for the heavy duty machining centre, Mr Paul Jasiewkicz, the General Works Manager at Jenkins Engineering Ltd says: "It was selected initially for capacity as the company had a significant amount of new business for the offshore oil industry. We wanted the ability to get more work done on a larger machine whilst maximising our floor area. We were looking for a bigger work envelope where we could do more machining in the Y-axis and we also wanted more power."
With an impressive Y-axis of 860mm, the machine will also support parts up to 1.2m wide with 1.8m in length. "So, we can get something 1.2m in the Y-axis and machine up to 860mm of that. This enables us to rotate parts that are loaded on the machine, re-probe and we are off again. We are working right to the extremities of the work envelope. Our customers know our capacity, so they will get in touch and see if we can support the part dimensions."
When looking for a machining centre with such a large work area and a small footprint, the company struggled. As Mr Jasiewkicz continues: "Some other machines were twice the size of the Dugard to get a similar work envelope."
The 14 tonne machine has a BT50 spindle configuration and a boxway construction for maximum rigidity, so the new Dugard HD1886B machining centre has been built for power. "We are machining 55mm diameter holes with a U-Drill at 0.1mm per rev at 200m/min with no pecking cycle. It goes straight through. The stability of the machine has enabled us to almost double the feed from what we were machining at before. Additionally, the inserts are lasting considerably longer and the Dugard also has through coolant to further prolong tool life and performance. The rigidity also translates into other operations. When we are milling out large pockets at high feeds, you can hardly hear the machine."
With 90% of the company's work being low carbon steel and stainless. Threading M42 holes the company has more than doubled its tool life just because of the rigidity of the new Dugard acquisition. As a machine shop that is full of CNC machine tools with Siemens control units, the subcontractor opted for a Siemens control on its new Dugard. This easy transition enables the company to easily transfer programs from regular jobs to the new machine, just tweaking the speeds and feeds to take into consideration the robust nature of the new Dugard.