Aerospace subcontractor Loftlock chooses large bed Dugard VMC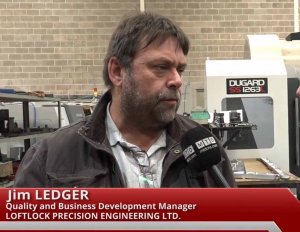 Reading based Loftlock Precision Engineering recently purchased a Dugard SS1263L machining centre for the high speed machining of its aerospace and defence industry components. Needing a large work envelope to fit a limited factory floor area, the Dugard certainly fitted the bill.
Commenting upon the acquisition, Quality and Business Development Manager at Loftlock Precision Engineering Ltd, Mr Jim Ledger says: "The main reason we bought the machine was because we needed a bigger envelope, but we didn't have the floor space available for a large machine. So, the Dugard fits both bills with its small footprint and large capacity. It's been a great success."
"The machine was bought for tight tolerance aerospace work and it's proven very good. In fact, the new machine has proven to be so fast that it has flown through our workload and we now have additional capacity, which is credit to the speeds and feeds of the Dugard."
Watch the video below
From an operator perspective, Bill O'Neill says: "The best thing about this new machine is its table size. It has a 1300mm bed and the table movement covers the bed and the complete envelope."
Referring to one of the jobs that were the main reason for the arrival of the Dugard, Mr O'Niell continues: "We have a large aluminium part that was previously machined in two operations as our other machines weren't large enough. Now, the new Dugard SS1263L enables us to machine the part in a single operation, saving set-up times and reducing non-running times. Furthermore, the bed is large enough for a jig, which enables us to clamp two parts to the bed and machine two components in a single set-up."
On this previously challenging job, the company is running at speeds up to 12,000rpm with a 2m feed rate. On another part, a helicopter crash seat the subcontractor is also doubling up the parts on the machine to reduce set-ups and maximise spindle uptime. With many parts requiring high material removal rates, the Berkshire business was intent on buying a machine with a robust platform and the capability to machine parts for the Aerospace, Defence, Motorsport, Marine and Medical sectors at extremely high speeds and feeds. The Dugard SS1263L machining centre has certainly satisfied this demand.