Dugard Turns-Up Productivity With Fixed & Sliding Head Lathes
Companies with the heritage of AW Engineering Ltd are very rare. Founded in 1908 by Alfred Wood, the subcontractor switched its workload to munitions and aircraft parts during World War II and ever since, the company has remained under the stewardship of the same family.
In 2020, almost 101 years to the day being at the company's previous property, it moved to a new 15,000sq/ft factory in West Molesey. In the two years since the move, the company has doubled its turnover under the leadership of Mark Felstead – the great, great grandson of company founder Alfred. Contributing to this growth is the investment in three machine tools from Dugard.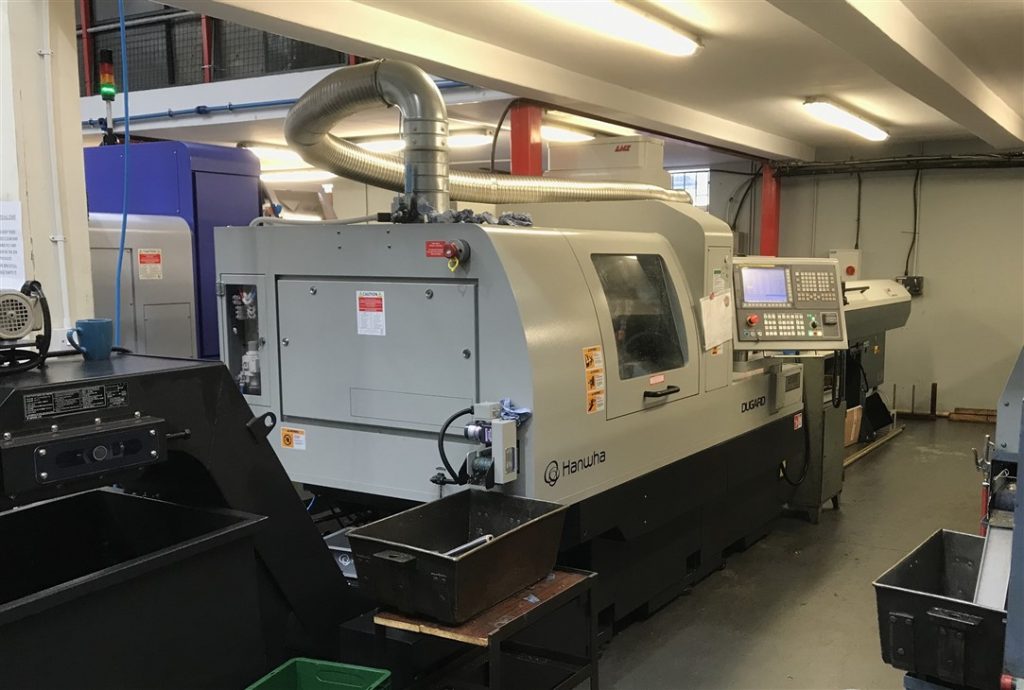 The plant list did include four VMC's, two twin-spindle twin turret mill/turn centres, four sliding head turning centres and a range of ancillary equipment. However, the company has rapidly added to this with two SMEC SL2000BSY twin-spindle single turret turning centres, a Hanwha HCR5 Cobot and a Hanwha XD38 IIRNHY sliding head turning centre. Commenting on the rapid growth and the installation of three machine tools from Dugard in quick succession, current owner and Managing Director Mr Mark Felstead says: "As a general subcontract manufacturer, we do everything from small to long series batch runs, turnkey applications to customer contracts and even projects that require a complete family of parts for assembly. We often produce batches in the tens and 20s, but frequently produce batches from 3,000 to 5000 and even long series runs up to 50,000 or 60,000-off."
Manufacturing simple to complex components for industry sectors as varied as agricultural, architectural, electrical, medical, PPE and the lighting industry from all types of materials, AW Engineering is in a fortunate position to have long-term customers and contracts. However, this is credited to a reputation built over decades and a propensity to always serve the customer. So, when a long-term customer was having trouble with quality from other suppliers, it approached AW Engineering with a large order that needed mill/turn capacity. With an order book bulging at the seams, the Surrey company stepped up regardless.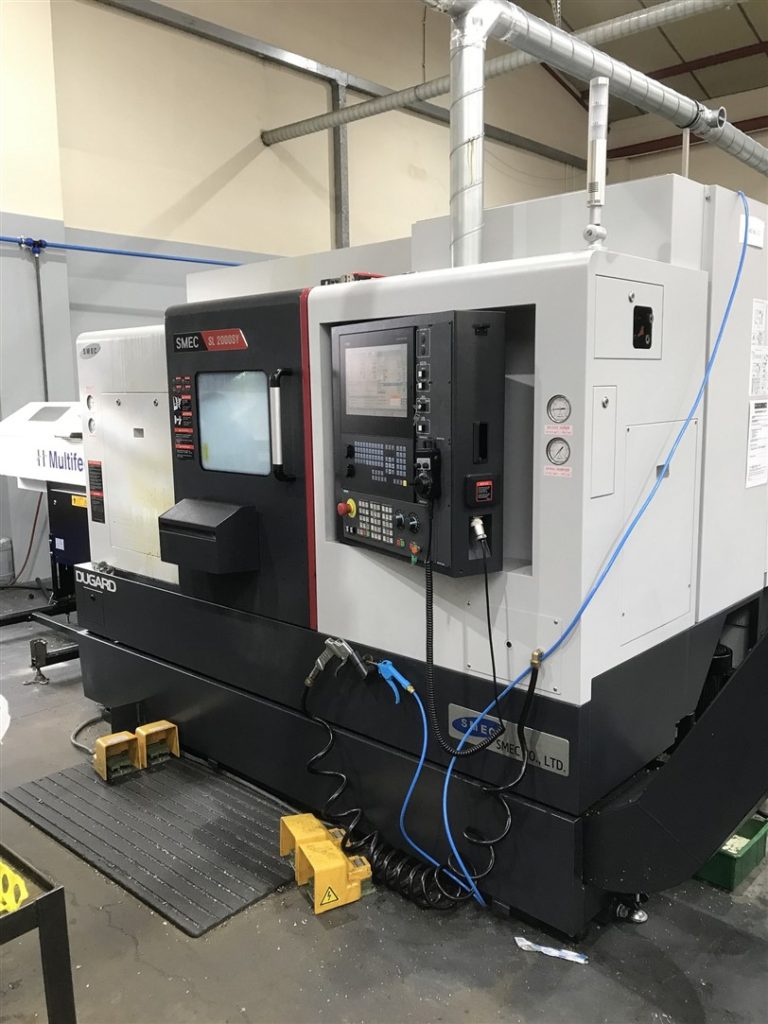 As Mark says: "Our twin spindle mill/turn centres were already working around the clock, so we needed a new machine to fulfil the order. During Covid, suitable machine tool supply was sparse. We spoke with Dugard and within two weeks of placing an order for a SMEC SL2000BSY, the machine was on our shop floor and running. With furlough and other restrictions during the pandemic, Dugard was the only company that could serve our needs."
Installed in April 2021, the SMEC SL2000BSY hit the floor running and has been running almost 24/7 since installation. As Mark continues: "We bought the SMEC for a 5000 part order with a 4-week lead-time. With an 8-minute cycle time and a lot of complex milling and turning, the SMEC was running 24/7 within two days of being installed. What we liked about the SMEC machine was the rigid box guideway construction that demonstrates outstanding rigidity and stability. This enabled the machine to take deeper cuts, extend tool life and shorten our cycle times considerably."
"The only SMEC machine available on such a short lead time during the pandemic had a Siemens CNC system – and this was new to our business. However, this soon appeared to be a blessing, as it drastically reduced our setups and programming times with its conversational programming. Set-ups and programming are at least 20% faster with the Siemens control and we can prepare jobs and programmes with confidence with the conversational programming and simulation within the Siemens system."
Less than six months after the installation of the first machine, AW Engineering placed an order for a second SMEC SL2000BSY. As Mark recalls: "As a result of the first machine working so well, we went and ordered a second. Fulfilling the first contract for a customer in the electrical industry, we won a second long-term contract. The confidence the customer had in our ability to deliver high-quality components from the SMEC machine led them to us on another project – a family of 6 parts. Initially manufactured by an alternative supplier, the client was having issues with precision, surface finishes and defects from its supply chain."
The issue for AW Engineering's customers in the electrical industry was that parts had to be machined to an impeccable standard with uncompromising surface finishes, and a concentricity and parallelism tolerance of +/-0.02mm on most features and also both faces of the mill/turned parts. Unfortunately, this level of precision resulted in defects. As Mark adds: "The rigid base of the SMEC machines provides a stable platform for extremely precise machining. As a result, we could maintain tight tolerances and high-quality surface finishes, even when transferring parts from the main to the sub-spindle. With a requirement for 3,000 components per month, maintaining this precision level for lights-out machining was a critical aspect of the order, which the SMEC easily achieved. The project is a family of six parts, and we are machining four of the six parts on the SMEC – a total of four precision parts multiplied by 3000-off, every month."
With a combination of aluminium and Stainless steel components with cycle times of up to seven minutes on some parts, the SMEC has been running the components for several weeks on what is projected to be a long-term contract. Both SMEC machines have bar feeds and a 65mm diameter bore that is perfect for 24/7 production. As a company that only runs a single shift with some overtime, many of the machines on the shop floor are running around the clock unmanned. The two SMEC machines are manned by a single operator. However, some components in the family of parts are above the 65mm diameter bar feed threshold and require manual loading. Here, AW Engineering has purchased a Hanwha HCR5 Cobot from Dugard.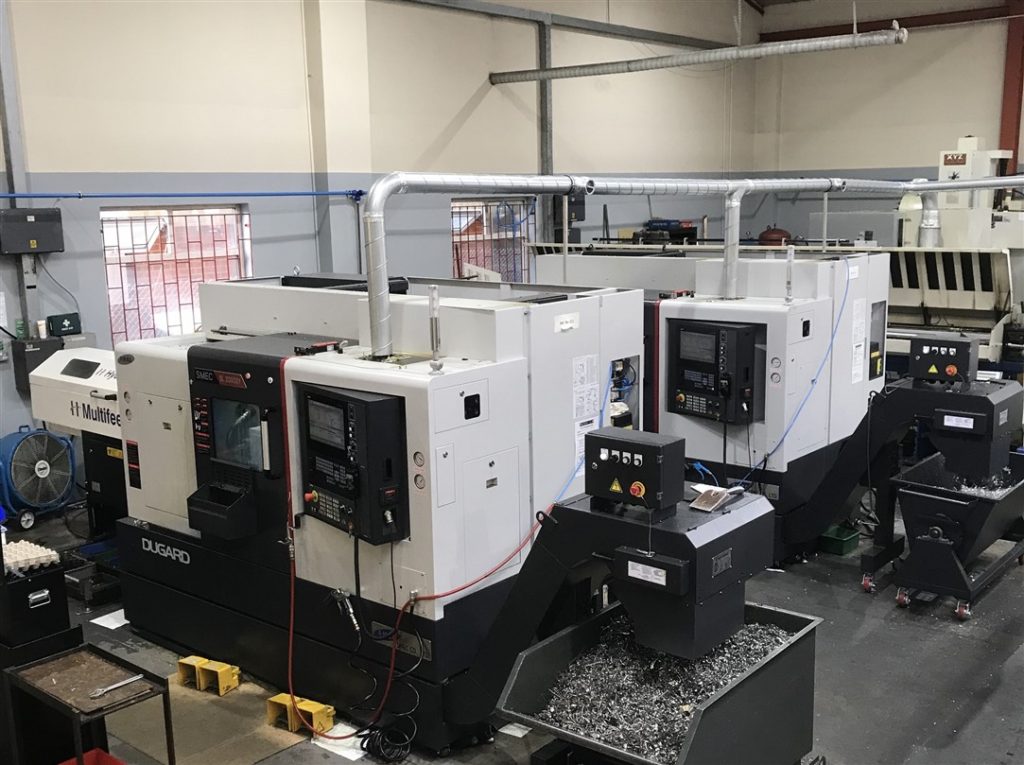 Discussing this, Mark continues: "We looked at automation solutions and it was very cost-prohibitive for our business with extended lead times, we approached Dugard and purchased their HCR5 Hanwha Cobot. We have all of the expertise in-house to build our platform, we have developed the machine auto door opening system, safety guarding, storage table and more. With the purchase of the Cobot and applying our time, materials and labour – we have created a system that is at least 50% more cost-effective than a system from an integrator. Our Cobot cell is now up and running and which means that both SMEC machines can run unmanned 24/7. One will be producing barfed parts under 65mm diameter and the other will be loaded with larger components via the cobot with an estimated monthly output of 6500 parts via the 24/7 running of the Cobot."
Concluding on the acquisition of the SMEC machines and the Hanwha cobot and sliding head turning centre, Mark says: "The build quality of the SMEC is second to none. The quality of our parts is outstanding, and the rigidity is reducing our tooling consumption, improving our quality and giving us the ability to increase our feeds and speeds, which is inevitably reducing our cycle times by more than 20%. The Siemens CNC system is shaving another 20% off our programming and preparation times, so our efficiency has massively increased."
"Some of our other twin-spindle machines are twin-turrets, which would inevitably give them faster cycle times. However, the difference is minimal due to the improved stability of the SMEC. Furthermore, the single-turret configuration of the SMEC makes programming much faster and speeds up our turnaround on small to medium-batch runs. Added to all these benefits, the service and support from Dugard has been fantastic," says Mark.