The second day of Southern Manufacturing has been a tremendous success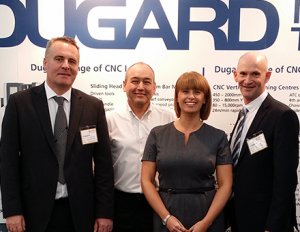 After the disappointment of the show closing early yesterday, the turn around today was phenomenal – the show was packed.  
Obviously we wanted to keep the news page up to date so the team kept trying to send pictures but that request proved a touch tricky, as Karen said "I'm trying, but customers keep turning up…!"
Everyone on the Dugard stand was really impressed with the turnout today – more than making up for going home early yesterday. Karen's been in charge at the stand (she's the lovely lady in the pictures by the way) and she told us that yet again Southern Manufacturing has been an out and out success. They're bringing back some excellent leads and each one of the team has really relished the chance to have a proper get together with our customers.
So then, next stop MACH at the NEC in April. Obviously all of our sales team will be there to answer any questions, we've got some great new machines to show you and if you'd like to see Karen again she'll be working as a waitress in our cocktail bar – see you at 4:00pm every day for happy hour!