Success at Metalloobrabotka 2011 for Dugard Rus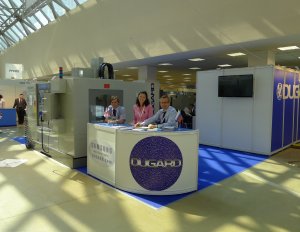 The 12th Metalloobrabotka International Machine Tools Exhibition in Moscow saw the first of many successful trade show outings for Dugard Rus last week (May 23 – 27 2011).
Since its formation at the beginning of 2010, the team at Dugard Rus in Moscow has been working hard to not only sell machinery but also to increase their profile and all that hard work is now paying off! Metalloobrabotka is Moscow's premier machine tool show and for the team at Dugard Rus it proved even more profitable than they could have hoped as they left the show with orders for 20 machines.
The show itself was exceptionally busy so it proved to be the perfect platform for the machines we had on show – one of our new Dugard ECO 1000 VMCs, a Dugard 32 Sliding Head Lathe with Sub Spindle which is one of the most popular in the range, as well as a new Samsung PL2000SY Lathe with Sub Spindle and Y Axis.
The sensational response can come as no real surprise however as not only were we showing a comprehensive range of machines but the staff on the stand were an excellent reflection of the of experience, technical ability and commitment to customer satisfaction which our customers have come to expect from everyone at Dugard. The team at Dugard Rus not only have the full range of Dugard machines to work with but they're also the exclusive dealers of Samsung throughout all the CIS Countries.
Response from the show was so encouraging that we've already booked a larger stand for next year. The progress over the last year has been startling and the staff at Dugard Rus are well equipped to meet every challenge head on and become bigger and better – which for us can only be good news!