Brighton Race for Life 2014 – well done Danni!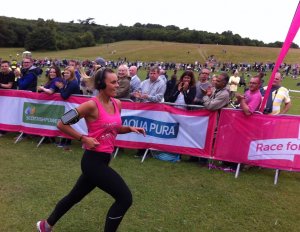 Running a 5K race isn't everyone's idea of a relaxing Sunday morning pursuit, but luckily for Cancer Research and the amazing fundraising work the Race for Life event does every year, that's exactly what over 2000 people did yesterday morning at Stanmer Park in Brighton.
And among the impressive field of runners was Danni Livingston from the Dugard office (Danni's Olli's assistant so she works with all our European dealers). We're extra proud of Danni because she didn't just run the race any old how, she came 13th finishing in just 26 minutes (that's a whole minute quicker than she ran the course last year)! Obviously we're all super impressed, not just with Danni's sporting prowess but also with her brilliant fundraising efforts – she's already raised over £400 in donations so far but if you'd like to support her as well go to her Just Giving page. Any extra donations would be gratefully received as it's such a worthy cause and we're sure you'd like to join us in congratulating Danni on a job very well done!