SteelFab 2016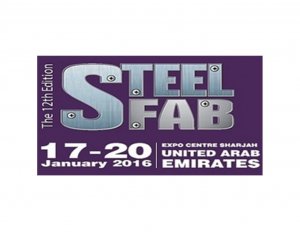 17 – 20 January 2016, Expo Centre, Sharjah, UAE
SteelFab is such an important show for Dugard – especially now that we've got our brand new office in Dubai to accommodate our expanding team and an exciting new partnership with Aliyat. It's the ideal opportunity to show off just how far our Middle East operation has come in the last 12 months.
Tos Varnsdorf machines have been some of our most successful in the Middle East but unfortunately they're far too big to actually have on our SteelFab stand. Luckily the team at Tos have helped us find a clever alternative and this time we'll be exhibiting a 3D simulation of the Tos Varnsdorf range. So now, using virtual reality, you can see all the workings and features of a Tos Varnsdorf machine. The added bonus is we've got extra space on the stand to have a proper sit down and explain exactly how a Tos Varnsdorf machine will work for you.
The team from Aliyat, our sales and service partner for all the countries in the GCC region will be joining us on the stand at SteelFab. They bring with them vital experience and expertise, helping us better serve our customers throughout the region so it's set to be an extremely productive show.
If you'd like any other information on SteelFab 2016 email Olli Tyrvainen at Dugard or Ozair Chaudhry at Aliyat, and please pop down to the show so we can meet you in person.