Southern Manufacturing 2016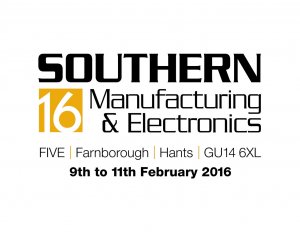 9 – 11 February 2016, FIVE, Farnborough
Southern Manufacturing 2015 was such a successful show for Dugard we booked the exact same stand right there and then. 
We're also planning to carry on the success by showing off our fantastic Dugard Lunan range again.  Our stand isn't massive but that's perfect to show off the compact footprint of the Dugard Lunan 500A.  All the Dugard Lunan range are available to buy online with an impressive 5% discount.  If you need any details about the Dugard online shop at Southern Manufacturing, Paul Wallace our South East sales manager and Andy Yeomans our Southern sales manager will both be at the show, have a cup of coffee with them and they can explain everything.
So, like last year we're on stand M14 – nice and close to the main entrance so you won't be able to miss us. As well as the Dugard Lunan 500A we'll have plenty of info on our whole range, including the new Dugard Lunan machines, as well as lots of demonstration videos to show you. If you're already working on a project and need to know how we can help you, Paul and Andy will be happy to help. If there's anything you want to talk about before February we'd love to hear from you so send us an email to sales@dugard.com or call 01273 732286. We're always updating our website, Twitter and LinkedIn pages so follow us on Twitter (@dugardcom) and LinkedIn (C Dugard Ltd) to make sure you don't miss any updated Dugard info?