Southern Manufacturing 2019
5 – 7 February 2019, FIVE, Farnborough
February's nearly here so that means we'll be seeing you at Southern Manufacturing in Farnborough. This year the show starts on 5th February and runs to 7th and it's the second year in the brand new building that made last year's event such a success.
We've got a slightly bigger stand this year, you can find us at F260.  We're bringing the SMEC SL2000BSY, it's a sophisticated CNC lathe with Y axis and sub spindle, perfect for machining complex parts.  It's currently in stock, so if you like what you see at the show we can deliver it straight to your workshop instead of bringing it back to Hove.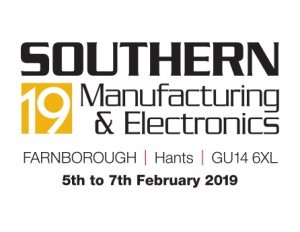 We're also bringing one of our new Hanwha collaborative robots to Farnborough.  The HCR-5 is a nifty little 5kg cobot, the perfect way to introduce automation to your production process.  The beauty of cobots is that they fully integrate with your human team to make production more efficient and profitable.
As well as the machinery we've got to show you, we'll be joined by our new sales team member, Colin Thomson. He's been bought on board specifically to look after our range of Hanwha sliding head CNC lathes, so if you've got any sliding head questions, he's the man to ask.
The Dugard sales team will be joining Colin, with Paul Wallace, Owen Gibbons and our resident robot expert Sia Baghaei ready to help with any of your production queries.  We'd love to hear from you before the show (or any time!) so email us on sales@dugard.com or call 01273 732286, and you can always check Twitter (@dugardcom) and LinkedIn (C Dugard Ltd) for any updates.