Southern Manufacturing 2016 is up and running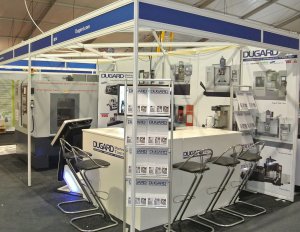 What a plaver at FIVE in Farnborough yesterday for the Southern Manufacturing 2016 build up – Storm Imogen caused quite a hefty delay! The exhibition space at Farnborough is sort of like a semi-permanent marquee and Imogen was rattling around like no one's business.
Along with all the other exhibitors, we were anxiously checking the Southern Manufacturing website for updates on the situation, and details of when we'd be let in to set up. Finally at 10:00pm the doors were opened – with Matt and Shaun first in the queue to unload the van. After that we stormed through (pardon the pun!) and although it was late, by 1:00am on Tuesday morning we were very pleased with the results and on our way home for a quick snooze befor work this morning!
From all the reports the show's up and running, no problems and plenty of visitors so why don't you pop down and have a look? Remember we're on stand M14, just by the entrance. Paul and Andy are ready to give you all the info you need and Karen's always lovely and welcoming so go and say hello.