Dugard sign new agency for Hanwha collaborative robots
Collaborative robots (cobots) are robots designed to physically interact with humans in a shared workspace.  Europe is the most active market for cobots and is the hub of the global robot industry. 
That's why Dugard have added their newest agency, Hanwha, and are proud to be the exclusive UK distributor of their new range of cobots.
In a bid to advance into the European market the Robotic Division of Hanwha Precision Machinery Co launched its robot brand "Hanwha Robotics" at the Automatica show in Munich on 21 June.  The event was hosted by Yeon-cheol Kim, CEO and Dugard were joined by the overseas sales and marketing representative Dr Woosok Chang, Head of Robotic Business at Hanwha and 5 other European representatives including Comher of Spain, Engram of Poland, HB Turnkey of Germany, Mactech of France and Origo of Hungary as well as Dymato of the Netherlands, who were Hanwha's first European distributor.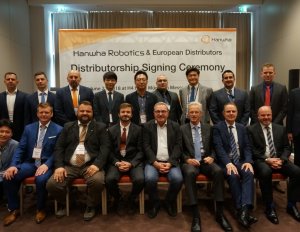 Collaborative robots are becoming increasingly popular, with a sales growth rate of 55% or more per year. Hanwha Robotics, based in Korea, is seeing strong sales in the domestic, Chinese and Southeast Asian markets and so decided to expand its position into Europe. Business has been further boosted with the establishment of a joint manufacturing corporation in Singapore.  "We are pleased that Hanwha Robotics has entered the European market through this ceremony," said Dr. Woosok Chang, the head of Hanwha Robotics said when the contracts were signed. "We are planning to establish a sales office in Germany within the third quarter of this year. We will continue to expand our global market through continuous investment in robotics business"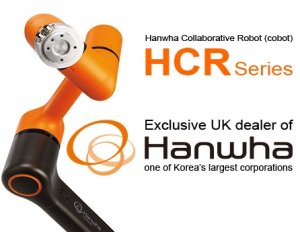 Our open house 17 & 18 October is the perfect time for you to come down to our head office to see the new cobots in action.  If Hove's a bit out of the way for you the good news is we'll also be showing them off at Robotics and Automation at Arena MK in Milton Keynes the week before our open house on 10 & 11 October.  Of course, if you can't wait until then, please give us a call on 01273 732286 or email sales@dugard.com.