Dugard open house pulls in customers and increases orders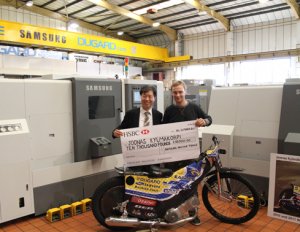 The Samsung Range is proving to be Dugard's fastest selling range of all time – with 13 sold throughout the UK and Europe (including Russia) at the Open House alone.
The 52mm machines which caused such a stir at EMO are fast building an impressive following as a further three machines were ordered during the Open House. Another new range to premiere at event was the HD Series of heavy duty VMCs and the HD1680B (the first stock model in the country) was snapped up straight away. MD Eric Dugard was extremely pleased with such a positive response, "This really is a tremendous success – we've all put a lot of effort into the Open House and it's much better than we could've expected. I'm confident that our partnership with Samsung will only go from strength to strength and all the other new ranges are really establishing their place as exceptional additions to the Dugard fleet."
Dugard launched their Samsung collaboration at EMO in Hannover and the sales success at the Open House was a welcome bonus.