Countdown to EMO Hannover 2013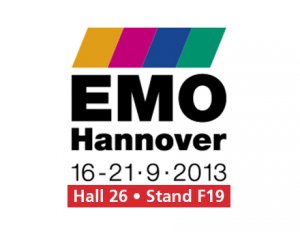 EMO Hannover 2013 runs from 16 – 21 September at the Deutsche Messe, we're in hall 26, stand F19
It's getting close now and we're really working hard to make sure our stand at EMO has everything you need to make the right machine tool decision! The show runs from 16 – 21 September at the Deutsche Messe, Hannover so make sure you come to visit is we're in hall 26, stand F19.
For those of you who visited our stand last time you'll remember that was when we launched our Samsung Machine Tools agency and we've been going from strength to strength with Samsung ever since. This time at the show Samsung machines are our main focus with 5 lathes on the stand (PL1600MC, PL240LM, PL25L, PL45MC PL2500SY) as well as a brand new machine from their VMC range, the LCV500. It's the first time we've had a proper look at any of the new VMCs, so it's really exciting for us too!
The Dugard range will most certainly be represented – although not physically! We've been testing out some interactive elements recently and they'll be in full force at EMO. You'll be able to look at the interactive brochures, take a 360° tour of machines, watch some of our new animations as well as see all our comprehensive selection of brochures and videos. And of course our sales team will be on hand to answer any questions you may have, or give you any advice you need – with over 100 years in the machine tools industry between them there's not a problem that they can't fix!
Of course you might not make it over to Hannover this year but not to worry, we've just decided on the date for our Open House. Put it in your diaries as we'd love to see you all in Hove 15 – 17 October.
Make sure you check into our website regularly for any EMO/Open House updates and why not follow us on Twitter (find us @Dugardcom) and connect with us on LinkedIn (C Dugard Ltd) to make sure you don't miss a thing?