LG Motion Ltd operate at tolerances of less than 5 microns on Dugard machines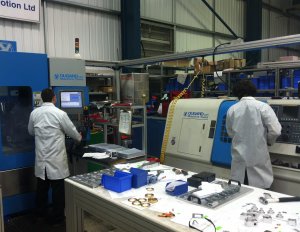 LG Motion Ltd based in Basingstoke, Hants, UK are motion control technology specialists delivering quality design and experienced manufacturing with a personal, professional service to science institutes and leading machine manufacturers.
Unlike the majority of UK based motion system suppliers, LG Motion operate from their own manufacturing facility and complement partnerships with leading-edge suppliers, with a value-add design-and-build service for mechanical and electrical systems that can include on-site installation and software programming. With an extensive product range that spans machine building components, mechanical positioners, panel building, distributed servo and motion control systems, LG Motion provides complete technical support and an after sales service covering product training and maintenance.
LG Motion are very strongly involved in making motion control equipment in key technology markets such as Science & Research, Aerospace & Defence, Medical & Pharmaceutical, Energy & Nuclear, Process & Packaging although most parts made are bespoke parts for testing purposes so nothing actually goes into production. Other markets where LG Motion are particularly active, extend to installations in highly advanced telescopes, studies into conservation of the world's great paintings, as well as precision camera mounts in the film and TV industry. LG Motion employ 10 x personnel, are a growing business and have an inherent quality culture of constant improvement, reinforced with BS EN ISO 9001:2008 Quality Standard and are proud of their commitment to exceed customer expectations.
In keeping with their quality philosophy, LG Motion has recently invested in 2 x machine tools from Dugard; the Dugard 660 vertical machining centre (VMC) and the Dugard 200HT CNC Lathe. The lathe is equipped with the industry standard Fanuc 0iT control, whilst the VMC is fitted with premium Heidenhain i530.  Both machines are in a manufacturing cell with highly trained engineers (including LG Motions apprentices), providing the business with both a first operation (on the Lathe) and a 2nd operation (on the VMC) meaning between the two machines they can completely machine a part (both turning and milling).
Being mindful of the hi-tec/hi-spec industries that LG Motion machines products for, it was imperative to the integrity of their business model that they buy machine tools that could deliver precision accuracy on varied types of materials across the spectrum and Dugard certainly fitted the bill. Acting in the scientific/aerospace and satellite arena also provides LG Motion with ultra-challenging material specifications and a precision delivery must be maintained and assured regardless of the spec (typically the business needs to be achieving tolerances of less than 20 microns regardless of part/material).
Due to the nature of the work LG Motion do, it is also very varied and because they are often asked to produce parts for testing purposes, the work is completely unique and (by definition) may never repeat again. In addition to this, there are some components that need to be made in quantities so complete flexibility is the key.
In conclusion LG Motion's MD Gary Livingstone comments: "The Dugard machines are easy to set, easy to programme and they deliver first class machining results. When we researched the market, we had a strict set of acceptance criteria that included buying machinery that could achieve tight tolerances. As it turned out the Dugard VMC and Lathe came out on top, especially so when we factored value for money into the equation. When I last checked, we were operating at tolerances of less than 5 microns on both machines, which in my book is an outstanding performance."