The new Dugard Academy 446 multi-function teach lathe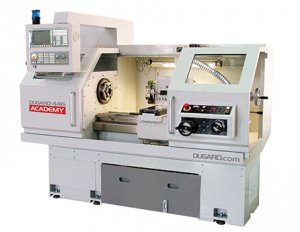 The first in an exciting new line of teach machines being launched by Dugard. It's the perfect solution for small companies working on small batch production as well as schools and colleges, and prison workshops as it's extremely versatile with a very competitive price.
The Academy 446 Multi-Function Teach Lathe is a highly capable small machine. It's designed to provide outstanding accuracy and reliability time after time, giving the customer everything they need:
Industry standard Siemens 828D CNC control system with Shop Turn "conversational" programming – this makes it easier to programme parts directly from the machine as it has 10.4" high resolution screen to visually display the part, giving you the option for offline programming
Two large hand wheels making it possible to use the machine as a manual lathe – useful for making one off parts. Shop Turn is also utilised in the manual mode as it can record the operator inputs, making it quick and easy to reproduce small batches.
Robust and versatile gap bed construction with an optional 8 station hydraulic turret
The Academy range also includes Dugard standard machines, again ideal for the training environment.  These include standard lathes, mills and a radial drill and are perfect starter machines.