Southern Manufacturing 2017
21 – 23 March 2017, FIVE, Farnborough
The organisers at Southern Manufacturing have made the bold decision to change the dates this year, so instead of a very romantic Valentines Day in Farnborough, this year we won't be there until the end of March.  The last few years have proved a bit of a challenge with very unlucky weather conditions in February, with snow one year, torrential rain the next and high winds last year, moving the show to March is a welcome relief.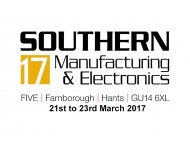 We're making our own changes this time around, we're still at the same stand (M14) but this year we're taking a Dugard 760XP with us. The XP range has had a bit of a revamp over the past year, now featuring heavier ways, faster rapids, increased spindle power and through spindle coolant all as standard, so Southern Manufacturing is the ideal place to show you all the improvements. For those of you who've visited the show before you'll know that we don't have a massive stand so the 760XP with its compact footprint (2696 x 2200mm) is the perfect machine to take with us.
Like normal, our stand will be packed with information – loads of brochures and plenty of demonstration videos so you can fully appreciate our whole range.  Our South East sales manager Paul Wallace and Andy Yeomans, our Southern sales manager will both be on hand, ready to answer any questions you've got.  Ask them anything about the Dugard range, or about specific projects you're working on, they've both been with us for years so they know exactly what they're talking about.  Of course, if you need any info before the show we're always happy to hear from you so send us an email to sales@dugard.com or call 01273 732286.  Just to make extra sure you don't miss any updates check us out on Twitter (@dugardcom) and LinkedIn (C Dugard Ltd).