MACH may be postponed but we still have amazing machine offers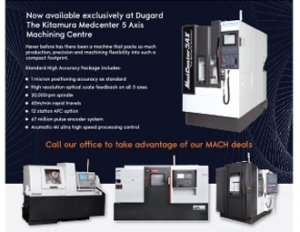 At MACH 2020 we were planning on demonstrating our most diverse and comprehensive range of machine tool options yet introducing no fewer than four new product lines to MACH visitors. However, as you all know by now, MACH has been postponed until 25 – 28 January next year. We were planning some show deals and these are still very much on offer, so take a look at the machines we were going to show and get in touch for more information.
As well as our renowned and established market leading brands, we were going to  introduce the new Hanwha brand of cost-effective, productive and extremely robust sliding head turning centres, the Hanwha series of collaborative robots, the recently announced IBARMIA line of heavy-duty 5-axis travelling column machining centres from Spain and the Kitamura range of extremely high-end machining centres.  Alongside turning centres from the Hanwha stable that we recently introduced to UK shores, and the established industry leading SMEC range; we were going to  showcase no fewer than three Kitamura machining centres at MACH. Keen to establish a foothold among the very high-end machine tool vendors in the UK, the Kitamura line is the perfect complement to existing Dugard ranges. On the Dugard stand at Mach, we were going to introduce the Kitamura MedCenter5AX 5-axis vertical machining centre, the MyTrunnion 4G and the HX250iG.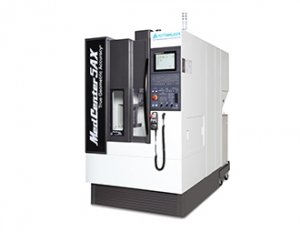 The Kitamura MedCenter5AX 5-axis vertical machining centre is an extremely compact and versatile machine with an X, Y and Z axis travel of 254 by 330 by 330mm over a 170mm diameter table. It also incorporates a 30 to 30,000rpm spindle with a HSK-E40 spindle taper that is connected to a 40-tool ATC that can change tools in just 1.5 seconds. With industry leading tool to tool times, a rapid traverse of 50m/min (x, Y and Z-axis) and table rotation of 200rpm on the A and C-axis. All this combines with linear and rotary scales, 67 million pulse encoder technology and 16mm pitch ballscrews that make this a highly productive proposition. It is also one of the most accurate machines in the market. With a positional accuracy of ±2 microns across the full stroke and a repeatability of ±1micron, the MedCenter5AX is certain to attract manufacturers of small, complex and highly accurate components.
Alongside the MedCenter5AX was the Kitamura MyCenter-HX250iG. This 4-axis horizontal machining centre is a guaranteed crowd pleaser with its twin pallet APC configuration that can drastically reduce set-up times for small, detailed, highly accurate and complex parts. With precision comparable to the MedCenter5AX and a compact footprint; the MyCenter-HX250iG has astounding rapid traverse rates of 60m/min that demonstrate its speed, precision and overall quality when compared to other leading brands in the industry.
From an option perspective, the MyCenter-HX250iG has a powerful 15,000rpm dual contact spindle with the option of a 30,000rpm HSK-E40 variant, an optional 10-Station APC system and an upgrade from 40-tool ATC to 102 ATC stations, Furthermore, like all machines from the Kitamura stable, the MyCenter-HX250iG can be fitted with the pioneering Arumatik CNC control system.
Complementing both the MyCenter-HX250iG and MedCenter5AX we were also going to show the larger capacity Mytrunnion-4G. This 5-axis workhorse demonstrates both the precision and speed of the other Kitamura machines, whilst providing a larger work envelope at 610 by 610 by 500mm. With options for a HSK-A63 spindle for the 15,000rpm 15HP direct drive unit, the Mytrunnion-4G is the perfect choice for ultra-high precision simultaneous 5-axis machining.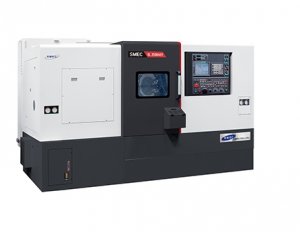 SMEC has long been a mainstay of the Dugard portfolio, and the SMEC SL2500BLSY turning centre highlights exactly why this extremely flexible workhorse is so popular among UK manufacturers.  Built upon the foundation of a single-piece Meehanite casting that is heavily ribbed with a torque tube design, box way slideways are used throughout the SMEC range,  resulting in outstanding vibration dampening and thermal displacement characteristics. This combination permits powerful heavy-duty cutting that ultimately enhances surface finishes, tool life, component quality and of course, productivity levels. In addition, it is this build quality that is seeing customers report surface finishes comparable to grinding centres with precision levels equally impressive. Upon this sits a 10-inch chuck (12 inch optional) with a 650mm swing over bed capacity that allows a maximum machining diameter of 360mm and a maximum turning length of 520mm. This ensures the robust workhorse caters for the diverse demands of the industry. The SMEC SL2500BLSY has a bar capacity of 76mm and a powerful 18.5kW spindle motor that combine to enable heavy-duty manually loaded or automatically barfed machining of relatively large diameter parts.
Complementing the powerful high-speed main spindle, is a sub-spindle with a 6-inch chuck that is driven by a 7.5kW spindle motor capable of 6,000rpm turning. The reason for the extreme popularity of the SMEC range from Dugard is the unparalleled level of flexibility, productivity and stability. With stability and productivity assured by the robust machine base and sub-spindle configuration, the flexibility is derived from the impressive live tooling turret. With 12 tooling positions, the heavy-duty turret features a large diameter 3-piece Curvic coupling and 7,816lbs of hydraulic clamp force to maximise rigidity and deliver unsurpassed surface finishes and extended tool life. Each turret station is capable of accepting both milling and turning tools, with milling tools capable of reaching rotational speeds of 5,000rpm credit to the high-torque 3.7/5.5kW motor that drives the BMT65 configured system. Driven by a FANUC CNC control unit and weighing in at 5,600kg, this productive workstation will certainly be an attraction at MACH.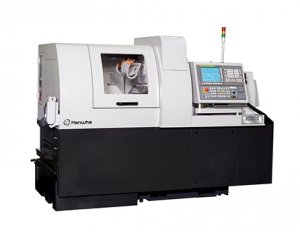 Alongside the SMEC SL2500BLSY, the Hanwha XD26 was going to make its MACH exhibition premiere. As a relative newcomer to the UK sliding head sector, the Hanwha range from Dugard is already disrupting the market with its remarkably wide product range, astounding flexibility and impressive credentials. This flexibility includes the capacity for larger diameter bars than rival machines, the higher levels of spindle (up to 23kW) and driven tool power and the impressive build quality, all of which is provided at a far more attractive price point than competitor machines.
The Hanwha XD26II is driven by the familiar FANUC 32i-B CNC interface, but the machine is also available with the powerful Siemens 828D CNC interface. The machine also incorporates the facility to rapidly switch from guide bush to non-guide bush operation. With a 26mm bar capacity and a 6000rpm 5.5kW spindle motor that is complemented by a 8000rpm 2.2kW sub-spindle, the new Hanwha XD26II offers power, precision and flexibility to suit any small part turning shop. The impressive Hanwha XD26II also incorporates a multitude of tooling configurations with five OD turning tools, an additional 10 front and back-working tools, five driven cross tool stations and also two driven and two static tooling stations for the sub-spindle – and that's not to mention the gun-drilling station. With the configurable tool platens and positions, the Hanwha XD26II offers fast set-up times, a spacious work envelope with plentiful operator access and most importantly, kinematics that position all tool stations close to the workpiece for unbeatable productivity rates.
The robust and meticulously designed Hanwha machine also has numerous configurational options that vary from part and chip conveyors through to oil and mist chillers, gripper units, powered guide bush systems, tool and tap breakage detection, length measuring units and much more. So, whether you are undertaking the turning of larger parts that demand productive solutions with flexibility or whether you are looking for a small part solution with unbeatable productivity rates, Dugard have the solution for your business.
While it's a huge shame to have to wait until January to see you all at MACH, you don't need to wait that long to get all the information on the brands at Dugard: Kitamura, IBARMIA, Hanwha and SMEC. For further details on any of our machine ranges, please call 01273 732286, email [email protected]