Dugard LB Range – heavy duty double column machining centres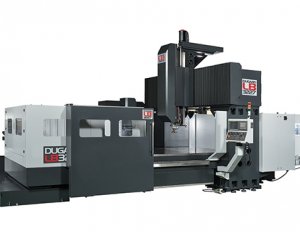 We first introduced our range of heavy duty VMCs in 2011 – with their unique reverse axis table design they were an instant success. That success has prompted us to expand the range to include the equally impressive LB range of double column machining centres – offering exceptional heavy duty capacity at a competitive price.
Powerful Cutting Performance
Designed exclusively by our senior design team – all the LB models feature a massive machine structure with a powerful geared head, perfect for heavy duty and high efficiency cutting. For extra functionality every machine in the range has an optional manual or semi-automatic 90° horizontal milling head for 5 face machining. High speed cutting is understandably a requirement for some of our customers, and the LB range doesn't disappoint with an optional direct drive spindle and motor – with BT50, 10,000rpm. Heavy duty cutting of course demands superior rigidity and this is ensured by the Z axis boxway design, and of course each machine in the LB range is also available with Z axis roller type linear ways.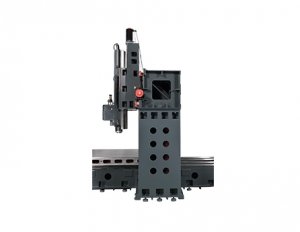 Revolutionary Machine Design
Like the original Dugard HD machines, the design of the LB range offers the machine tool industry something completely new. Spindle overhang has been reduced, increasing rigidity, reducing vibration and as a result improving surface finish, cutting performance and accuracy. The X axis is designed with 4 linear ways – 2 inboard ways are roller type, giving superb geometry control with 2 outboard ball type ways to fully support the table and minimise deflection. Added to that, the X, Y and Z axis ballscrews are refrigerated by a coolant through ballscrew system to eliminate inaccuracy caused by thermal displacement. The X axis also has a feed gear box, giving high torque performance for heavy duty cutting as well as a high resolution encoder for high precision accuracy.
The Dugard LB Range
The range gives 2200 ~ 4200mm X travel. With optional Y axis travels of 1200, 1600 & 2700mm. Z travel is 900mm as standard with 1100mm as an option. Two configurations of spindle are available throughout the entire LB range – BT50 6000rpm with 2 step gearbox giving a massive 757Nm torque or BT50 10,000rpm direct drive for high speed applications. The range has an impressively large table capacity (up to 15,000kg) so a wide range of components and materials can be accommodated. Each machine has Fanuc 0iMD, Heidenhain iTNC 530 or Siemens 828D control options
The sheer power of the new Dugard LB range means that each model has the ability to handle hard materials and heavy duty cutting, and they are set to be just as popular as the original Dugard HD machines. If you need any more information on the Dugard LB Range of VMCs please contact sales@dugard.com.