Arturn makes a turn for Dugard
Arturn Precision Engineering Ltd has just invested in a Hanwha XD38II sliding head turning centre to enhance capacity and throughput at its Rugby-based facility. As a Tier 1 automotive supplier as well as a manufacturer for the fastener, electrical, food and pharmaceutical industries, Arturn is no stranger to high-volume production runs – this is where the Hanwha machine from Dugard is making a difference.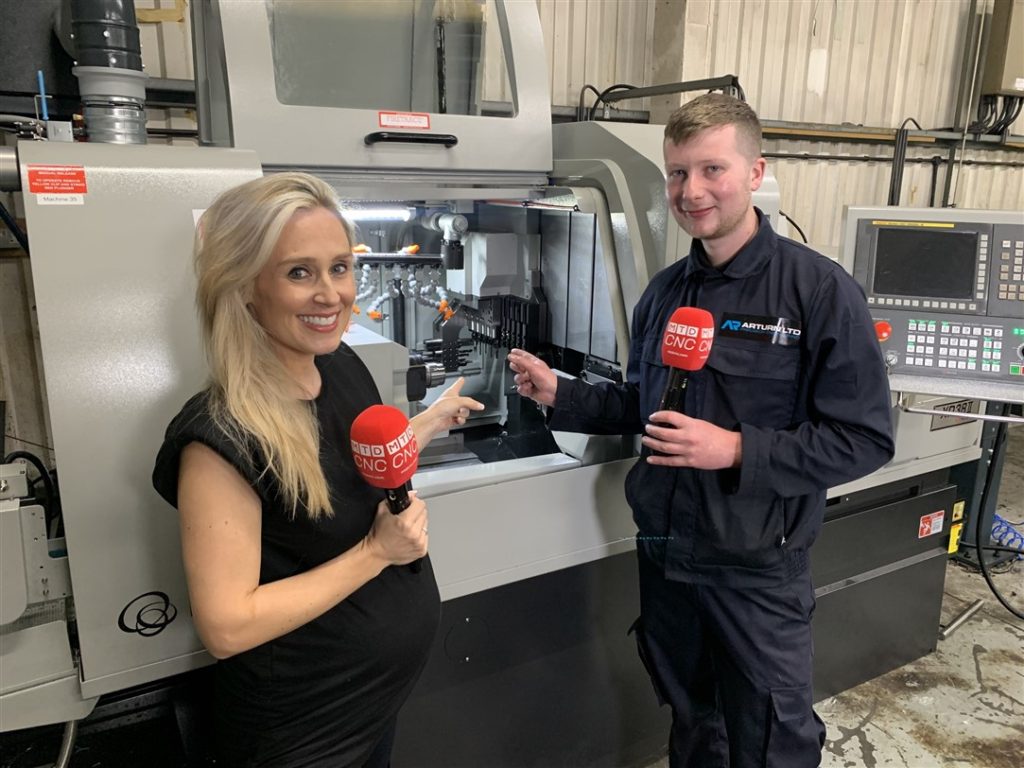 When asked why the company opted for the Hanwha XD38II sliding head turning centre from Dugard, Myles Rudkin from Arturn Engineering Ltd said: "One of the main reasons we bought this machine is because we can turn up to 38mm diameter on a sliding head machine, which in my opinion is pretty impressive, especially when the sweet spot is from 32 to 38mm – that's where we have a broad diameter of parts, so it means we can expand the range of components that we can machine for our customers.
Looking at the specific attributes of the machine that has recently been installed at the Warwickshire subcontract business, Myles adds: "It's a great machine and where the tools are located, particularly the power tools – this makes it easily accessible to interchange cutting tools and speed-up our setup processes.""
Considering the FANUC 32i-Model B CNC control system and the programming of the machine, Myles says: "I like the programming on this machine too. It has broadened my knowledge of programming, and this is because a lot of the M-Codes are familiar, like on a fixed head machine. This means that my knowledge of fixed head machines and the respective G and M-codes will transfer directly to the Hanwha machine. So, when I come on to the Hanwha machine, it has both a familiarity whilst broadening my knowledge."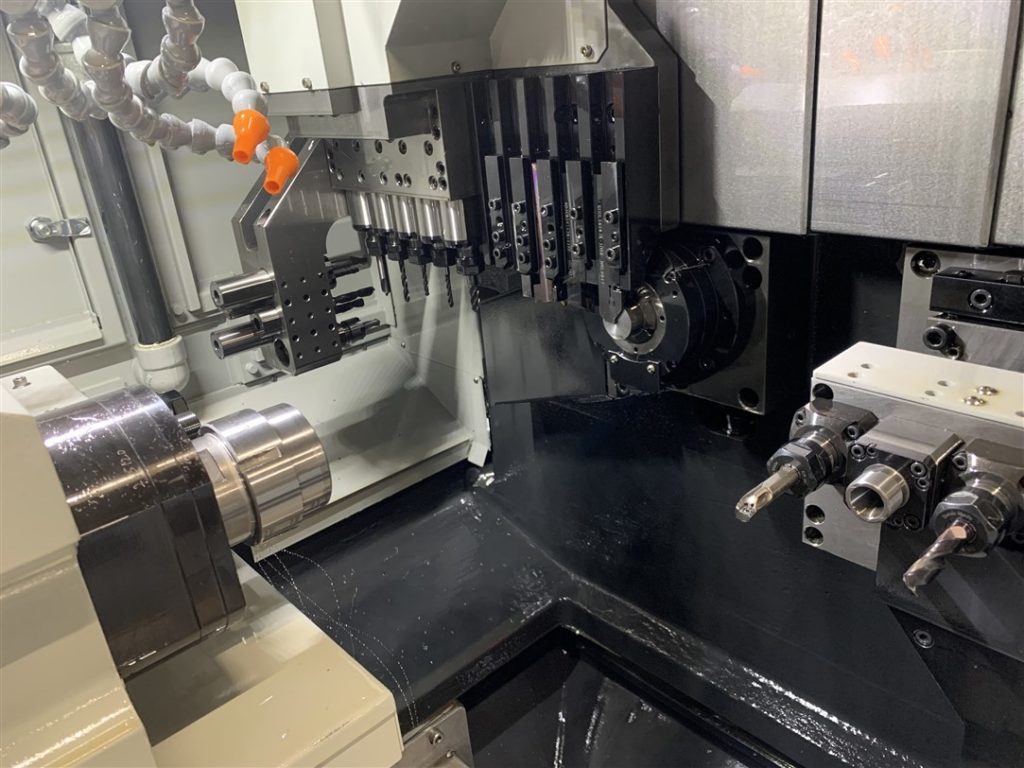 With flood coolant on the new Hanwha XD38II sliding head turning centre, ISO: 9001-2015 accredited Arturn has noticed a marked improvement in tool life. Referring to this, Myles adds: "The coolant flow on this machine is excellent and there is a high number of coolant hoses on the machine that can be moved and directed at specific tools. This helps to prolong the tool life and reduce wear, which is reducing our machining costs. We also have an LNS Mist Extraction system on the machine and this eliminates the mist from the work envelope before we open the door. So, when we open the machine door, no mist escapes and we are not breathing in the coolant oil mist and there is no oily residue in the wider machine shop."
With the machine supplied as a complete package by Dugard, Arturn also received an LNS Alpha 342 barfeeding system with the machine. Alluding to this, Myles adds: "We have the LNS barfeed and the user interface is very friendly. It is just a case of loading the bar, pressing two buttons and the bar passes straight through the machine. It also tells you exactly how many bars you have left and how many components you have left to produce – during machining. We do a lot of mid to high-volume work from 500 to 50,000+ off and this helps. It is good to know whilst I'm running a job, how much bar is remaining. As an operator, I know exactly when I will need to get more bar and how much I will need to keep the machine running. This also helps with scheduling."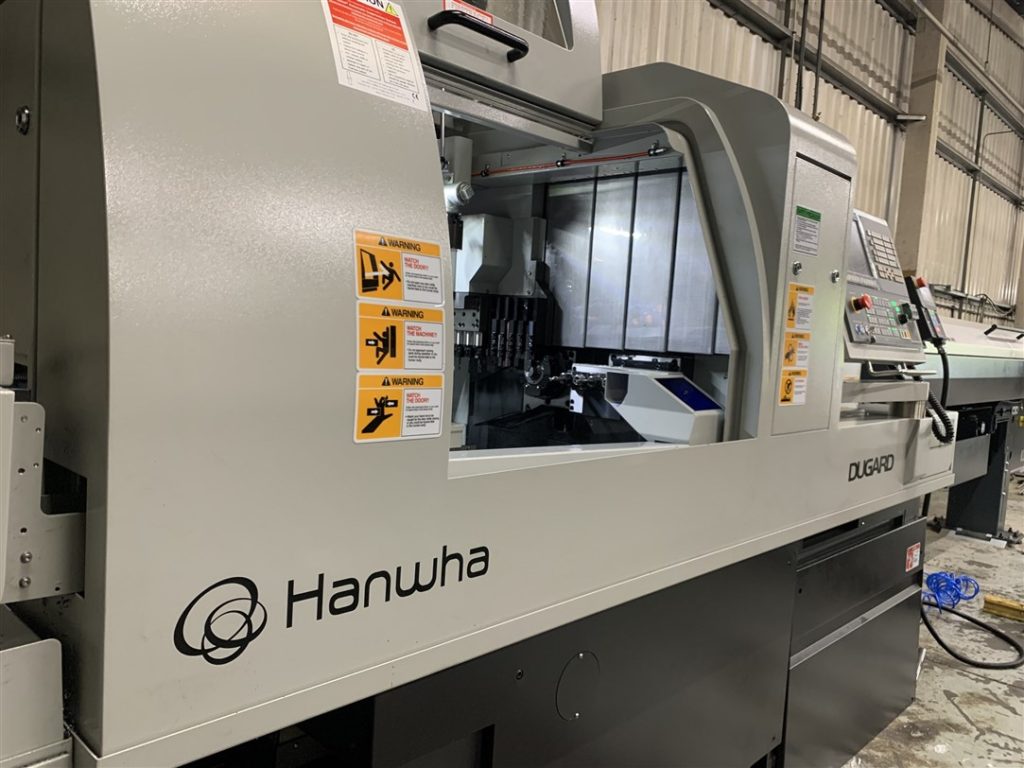 Looking at the 26 tooling positions on the machine that allows for a maximum tool shank of 16 by 16mm with a 6,000rpm cross slide that generates 2.2kW of spindle power, Myles continues: "We do a full variety of work on the new Hanwha and this can vary from EN18 materials through to mild steel, 316 stainless and more – the machine has an excellent level of power. With one particular component that requires a large bore and two flats milled on the OD, the Hanwha has taken out two operations compared to our previous method. This means the job can go straight out to the customer as a finished part from the Hanwha XD38II machine and this is a massive saving. The machine also keeps tolerances really well – to within a thou all the way throughout a long production run."
Concluding on the machine, Myles adds: "What this machine does really well is hold very tight tolerances whilst the excellent coolant flow is extending our tool life considerably. Looking at the 26 tool stations, these are all very well positioned and easily accessible."
Mentioning the impressive X1 and X2 axis stroke of 80 and 395mm respectively and also the Y-axis travel of 422mm and the Z1 and Z2 axis travel of 320 and 280mm, Myles adds: "I also really like the stroke in head 1. The long-stroke enables me to turn component lengths well over 300mm – this broadens the scope of what we can machine, as some sliding heads will only machine up to 180 to 200mm in bar length. It means we can turn particularly long shafts up to 380mm long with no problem on the Hanwha XD38II."