Southern Manufacturing 2013 – looking forward to next year!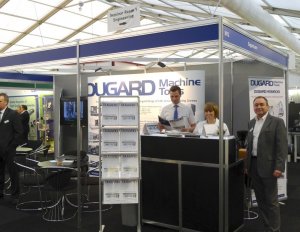 Southern Manufacturing 2013 was a tremendous success for us this year so we'll definitely be coming back! Our stand was really busy, we had great customer feedback and loads of good quality enquiries.
The team on the stand had nothing but positive things to say when they got back to Hove. We hadn't really known what to expect as Southern Manufacturing isn't just a Machine Tool show. Normally of course we take machines with us as well but we didn't find that to be a problem at Farnborough, people were happy to chat to the team and watch our demonstration videos (don't worry, you haven't missed out they're all on our YouTube channel!).
We left Farnborough with loads of ideas for our next show – so the plans for Advanced Manufacturing at the NEC are already underway. It's a new show run in conjunction with Subcon and it it's running 4 – 6 June this year. We're planning a smaller stand again, no machines but we're going to introduce more interactive elements – which will be a great test in the lead up to EMO in September and MACH in April next year. It's Hall 3 at the NEC and we're at stand AM58, we'll keep you updated with what we're up to here on the website and of course on twitter (find us @Dugardcom), and we'll see you in Birmingham!