Our new and improved online shop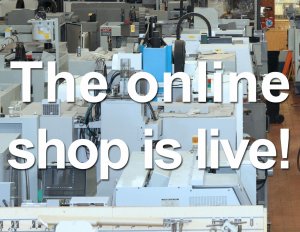 Our new and improved online shop
The Dugard online shop is back, and it's bigger and better than ever!  We've tried to keep it really simple by only making our Dugard Lunan range and used machines available to buy online.
  That doesn't mean your choice is limited in any way, with CNC lathes and VMCs available in the Dugard Lunan range and a huge selection of CNC and standard machines in our used department, we're sure to have just what you need.
Dugard Lunan machines with 5% discount
If you buy one of our Dugard Lunan range machines online you'll benefit from a generous 5% discount. These machines are perfect to buy online as we've kept the options at a minimum to keep the price super low, so the 5% discount makes them an absolute steal! Simply choose your control (either GSK, Fanuc or Seimens), then your options and all you'll have to pay online is a 10% deposit so the strain on the credit card isn't quite so eye watering! We'll be in touch to sort out your delivery (also nice and cheap when you buy online!) and the balance payment and the machine's yours. Of course you can arrange to pick up the machine and transport it yourself, that's absolutely fine. Then, depending on where you are you could have your brand new Dugard Lunan up and running in just a couple of days.
Used machines – make us an offer we can't refuse
The good news is you can now get a fabulous quality used machine at a rock bottom online price too. With the used though, we won't be offering any discount but you can effectively create your own as you can now make offers online for all our used machines. We list the price of each machine but instead of just paying the advertised price, you make an offer (you'll need to log on for that, but it's really simple) and the thermometer will tell you if it's close enough to be accepted. That's just a guide really, we review all the offers we get and even if it's not quite high enough there's always the chance that we'll take a lower one. If your offer's accepted you just pay the 10% deposit online and we get in touch to sort out your delivery and balance payment. As soon as we've received your offer that machine is yours, a deal's a deal at Dugard, even if we get a better offer. Prices don't include delivery but we're happy to quote for each machine individually. Don't worry though, all the deliveries we make are on our own lorries so we can make deliveries at cost price (we're never looking to make a profit on delivery after you've already bought a machine). So with our new used section in the online shop you can get some amazing bargains.
If you've got any questions about our online shop we hope we've answered them all here in our FAQ section. If you can't find the answer you're looking for though, just send us a quick email to sales@dugard.com or call us on 01273 732286 and we'll tell you everything you need to know.