Hanwha Precision Machinery has global expansion in their sights with their new Europe Technical Centre
Hanwha Precision Machinery are the first Korean machinery company to set up a technical centre in Europe.
Built near Frankfurt in Germany, the centre will showcase their surface mount technology (SMT) mounters, the Swiss type (sliding head) turning centres and of course their range of collaborative robots (cobots). Opened by president Ki-Nam Lee, this move is set to make Hanwha a global player through its world-class technologies and services, all available at Dugard in the UK.

The technical centre will serve a base for Hanwha to increase its global presence. It is expected to attract new customers and large projects across Europe, as well as offering local customers world-class technologies and services including training programs, cycle time computations, and product demonstrations.
It's a two-story building with 711m² of floor space in Mörfelden-Walldorf, just ten minutes from Frankfurt. It's very well equipped with a showroom, training facilities, offices, and a conference room. The launch of this technical centre continues Hanwha's expansion strategy to increase sales in Europe by at least EUR 30 million and make Europe account for more than 15% of its total sales.
The opening ceremony was attended by Hanwha Precision Machinery president Ki-Nam Lee, the Managing Director of Hanwha Europe Jabong Ku, and other senior members from Hanwha's European network.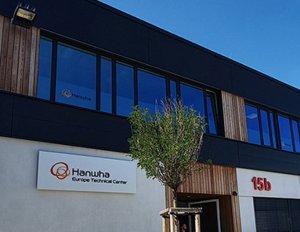 "We're very proud to be establishing this technical center in Germany, the home of the fourth industrial revolution. This is where we'll begin accelerating our growth in the European market," said President Ki-Nam Lee. "Moving forward, we hope that the technical centre will help increase our sales in Europe and create a synergy between Hanwha's business and technology behind precision machinery."
Dugard are the sole traders for Hanwha Swiss Type CNC turning centres (sliding head CNC lathes) and Hanwha collaborative robots (cobots) in the UK. Hanwha Precision Machinery began its machine tool business in 1977. By continuously building on and leveraging its 50 years of technology, the company has become the number 1 CNC Swiss type Turning centre manufacturer in Korea. In 2017, Hanwha released the HCR-5, the first collaborative robot developed in Korea. The HCR-5 was expanded into a product line, adding the HCR-3 and HCR-12. The company has been developing its collaborative robot business across Korea, China, Southeast Asia, Europe, the Americas and India.
For more information on any Hanwha products please call 01273 732286 or email sales@dugard.com