Dugard X5-800 high speed 5 axis machining centre
The fusion of German Technology with Taiwanese competitiveness makes our X5-800 5 axis machining centre an affordable luxury for any machine shop.
Designed to have a huge capacity with a minimum footprint, this machine can fulfil a wide range of complex machining demands.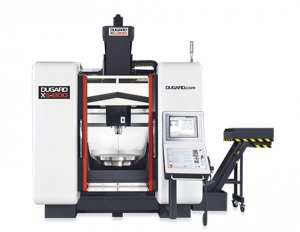 German made components
It's a high speed machining centre with the Kessler 18,000rpm, 25/35kW built-in spindle.  The torque motor drive rotary table is also by Kessler and boasts a Ø800mm table with a maximim load of 1300kg.  It has 800mm X axis travel, 900mm Y axis travel and 650mm Z axis travel, giving a maximum working area of Ø800mm x H600mm. 
Impressive precision and capacity
With a dual tool option, the X5-800 is very accommodating. 32 tools are standard and there is an option for another 32 tools in the 2nd tool magazine, increasing the storage capacity to an impressive 64 stations. Even with such a generous capacity, the magazines have a compact design to maximise the available space. Precision is high on the list, the A axis is driven by 2 torque motors, with up to 80rpm on the rotary table and the C axis is driven by one torque motor with a rotary table speed up to 100rpm. Complex machining is a priority for any 5 axis machining centre and the X5-800 doesn't disappoint. The double driven 4 linear guideway Y axis design greatly reduces vibration during high speed machining, increasing rigidity and ensuring exact positioning.
If you'd like any information on the Dugard X5-800 call 01273 732286 or email sales@dugard.com