Dugard welcome Kevin Searl to the sales team
In the last 18 months, we've expanded our product and application portfolio with the addition of the Hanwha brand of sliding head turning centres and cobots, the marquee Kitamura brand of high-speed high-precision machining centres and now the IBARMIA range of 5-axis moving column machining centres.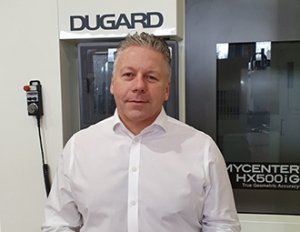 This exciting growth trajectory has meant we need to strengthen the sales team so we've appointed Kevin Searl as the new area sales manager for the East Anglia and Home Counties region.
Kevin's appointment is a necessity for us, as we continue to offer an ever-increasing product diversity that can now provide high-quality industry leading solutions at both the high-end of the machine tool market as well as providing robust and competent solutions for manufacturers with cost constraints.
With 40 years in manufacturing, Kevin's journey started as an apprentice toolmaker in 1980, where he progressed through the machine shop before working as a production engineer at Marconi Aerospace. Since the 1990's, Kevin has spent his career as a consultant, an area sales manager and product manager for some of the most prestigious brands in the machine tool, cutting tool and ancillary equipment market segments. Much of Kevin's expertise has been earned in the South East, East Midlands and Home Counties areas, which gives the experienced engineer a unique insight into the demands of the local industry with regards to target markets, trends and the regions 'key' manufacturers.
Commenting on joining the Dugard sales team, Kevin says: "Dugard has been one of the most reputable and well-established brands in the industry for as long as I can remember, and then some. So, when the opportunity came along to join Dugard, I took it with both hands. I knew the sales manager, Colin Thompson from a previous post; so when Colin approached me, the combination of a great company ethos, a fantastic product range that covers all the bases and the chance to work with great people, were factors that made the opportunity too good to turn down. Dugard has something in its product 'arsenal' to offer everyone, and that is a genuinely exciting prospect."
Our UK sales manager, Mr Colin Thompson says: "I have known Kevin for a number of years and his dynamic personality, relentless work ethic and knowledge, of not only the industry, but the geographical area he is covering, makes him a natural fit for Dugard. Kevin joined just before the Southern Manufacturing Exhibition and he really hit the ground running. In his first couple of weeks, Kevin has already created opportunities for Dugard – this is a combination of both Kevin and Dugard's established industry reputation and our expanded portfolio, that now has a solution for literally all your machining needs, regardless of business size, budget or technical requirements."
Kevin's busy introducing himself to customers around the region. If you would like a visit so you can discuss any projects give us a call on 01273 732286 or email sales@dugard.com