Dugard host tour of Samsung in Korea as well as main suppliers in Taiwan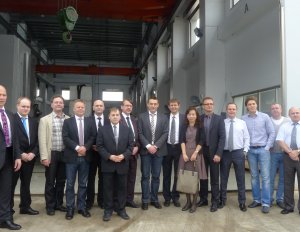 Eric Dugard (Managing Director) and Olli Tyrvainen (European Sales Director) recently hosted a trip for a group of our Russian and Scandinavian dealers and end-users. The visit started at Samsung Machine Tools headquarters in Korea and moved on to a tour of our other main suppliers in Taiwan.
It was the first time many of the group has visited these locations and they were all fascinated to see the high tech products available from our manufacturers. Several orders were secured for large machines during the trip and as the machines they saw generated so much interest we're expecting more orders in the new year.
It's not only the dealers and customers who were pleased with what was on offer – Eric and Olli were excited about the new multi-axis lathes on offer at Samsung, as Olli pointed out:
"We really are incredibly fortunate to have secured this agency as every time we visit them their product ranges continue to get more and more impressive."
Not to be out done, the Taiwanese manufacturers showcased large horizontal boring machines and vertical lathes as well as 5 axis machining centres with 300~1250mm table capacity. The Dugard range is already comprehensive but we've always got room for innovative machinery and we look forward to taking delivery of some brand new models at the head office in Hove.