Dugard builds sales team further with Peter Tilsed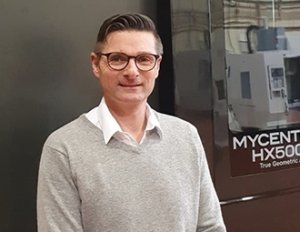 Our unprecedented level of growth has been well reported over the last 24 months, and we're not finished yet! Despite the challenges of Brexit, recent floods, and now the Coronavirus, we're still going from strength to strength – now adding a new area sales manager to the South West and Wales region.
We've witnessed a reasonable success in this area for a number of years, despite not having a dedicated sales manager. However, by employing Peter Tilsed, an experienced sales engineer with more than 20 years of field sales expertise, we're looking to drive the advantages of its vastly increased portfolio of machine tools to engineers in the South West and Wales. Strengthening a sales team during a challenging economic period, is testament to the continual growth and confidence that we have in both our extremely diverse machine-tool portfolio and the service and support the we provide.
Peter started his career in a subcontract machine shop in the early 1980s, progressing from the shop floor into production engineering and management roles. In the late 1990s, Peter switched his career path and focus into cutting tool sales. For more than 20 years, Peter has been an extremely successful cutting tool field sales engineer for some of the world's most prestigious cutting tool brands. The combination of Peter's machine shop experience, cutting tool expertise and also his extensive knowledge of the machine-tool and subcontract manufacturing industry in the South West and Wales regions, gives him the platform to help us grow our presence in the area.
Peter will be the sixth new arrival at Dugard in the last 18 months, following the appointment of Product Sales Director Colin Thompson and five new Area Sales Managers with Kevin Searl, Gerald Coyle, Mark Anson and John Brimblecombe now successfully managing and enhancing the Dugard brand from Scotland, the North East and West, East Anglia and the Home Counties, the Midlands and now the South West and Wales.
Talking about this unprecedented growth, our MD Eric said: "We may be living in uncertain times, but one thing that is certain, is our dedication and commitment to our customers. As a company, Dugard has evolved and grown beyond all recognition in the last 24 months. Part of this evolution has been the addition of world leading brands such as Kitamura, Hanwha and now IBARMIA to the Dugard stable. The diversity and capability afforded to our customer base by these brands is something that is hugely extending our market reach and relevance. By adding these world-class brands to our portfolio, which was already a huge success in the UK – expanding our sales team to meet the demands of industry is essential."
If you're in the South West and South Wales, Peter would love to come and introduce himself and talk about any projects you've got in the works that we could help you with. Give the office a call on 01273 732286 or email sales@dugard.com to arrange an appointment.