Advanced Tool Manufacture Ltd invest in Dugard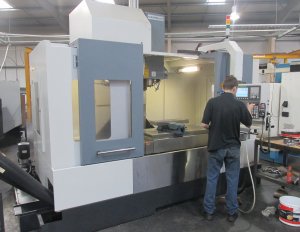 When Advanced Tool Manufacture Ltd was in the market for new machine tools, the East Kilbride company went straight for the ECO1000 vertical machining centre from a company located at the opposite end of the UK, Dugard Machine Tools.
As a company that provides subcontract production of extremely precise press tools for the automotive industry, Advanced Tool needed a robust, reliable and precise machine – something it received from Dugard.
Advanced Tool Manufacture is so heavily embedded in the automotive sector that 95% of the Scottish company's business comes from the automotive sector, as Mr Glen Crake, General Manager at Advanced Tool Manufacture says: "95% of our business is automotive, so we supply the likes of Jaguar Land Rover, Nissan and Honda. The press tools we manufacture vary in size from 1m up to 3.4m with a mixture of progression tools and transfer tools."
As an existing Dugard customer, when Advanced Tool witnessed an increase in demand it responded by purchasing 3 new Dugard machines. As Mr Crake continues: "We invested in the new machines because we have taken on new customers over the last few years and the work we are taking on is a little larger than before. So, we needed to take on more machines. We had bought two Dugard machines and we liked them so much that we opted for a third machine when we needed the extra capacity."
The machines from the Dugard E range include two 1350E VMCs and the latest addition is the new ECO1000. As Mr Crake continues: "Probably 70% of the tools we produce are 3D machined, so we obviously need a lot of capacity on that side of things. Furthermore, the steels that we use are mild steel, D2 and vanadium, which can be particularly hard to machine. We rough machine the materials, heat treat and then finish machine when they are hardened. Additionally, we program our jobs off-line and the jobs are ready to machine within minutes of sending to the machine and this is ideal for our complex, fast turnaround nature."
What this highlights is that the Dugard E range of VMCs are extremely robust and rigid for the machining of extremely hard steels whilst delivering the surface finishes and precision that is a pre-requisite for any company producing press tools. Additionally, with the ability to rapidly feed programs to the three Dugard machines, the extremely wide variety of complex components can be produced particularly quickly to eliminate any potential capacity or bottleneck issues.
Concluding upon the machines, Mr Crake says: "The machines are particularly competitive on cost and the support that we have been getting from the service point of view has been excellent. From a company perspective, we have already expanded by doubling the size of the company in two years and we are about to install a large press and also look at new and larger machine tools – and obviously we'll be looking to Dugard to support our machine tool requirements."
Advanced Tool Manufacture Ltd – interview with MTDCNC.com