Absolute Machine Tool Services Ltd – our new exclusive dealer in Scotland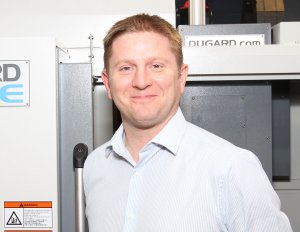 Founded in 2011 by the 4 current directors, Stuart Mitchell, John Douglas, Dougie Beaton and Jack Cowell, Absolute Machine Tool Services Ltd successfully support customers for breakdown and maintenance contracts on all types of CNC machines throughout Scotland. 
With an impressively steady growth since 2011, Absolute MTS now have a team of 6 engineers, giving them the ability to offer rapid response to a whole range of machine tool issues.  Absolute MTS are also the official Heidenhain distributor in Scotland and they have extensive expertise covering most other CNC controls.
As well as the team of engineers, Absolute MTS have added David McCafferty to the team. He has extensive machine shop and machine tools sales experience. That was really the final piece in the puzzle making Absolute MTS the ideal partner for Dugard's Scottish operation. David will be heading up the sales team with company director Stuart Mitchell (pictured left).
Partnering with Absolute MTS was the next logical step for us as we've been working with them for many years. We couldn't be more pleased with the job Absolute MTS have been doing, providing support throughout Scotland to our extensive network of users. So this is the perfect time for Absolute MTS to step it up a notch and be the exclusive Dugard dealer in Scotland, still providing the same excellent service cover, but now increasing their role to include sales for our full range of machine tools.
If you're one of our valued Scottish customers and you need service support then nothing's changed for you.  Just call the head office in Hove on 01273 732286 and we'll get your machine back in action as quickly as possible.  If you're in the market to buy a machine then of course you can still contact us on 01273 732286 or email sales@dugard.com.  But now you can contact David and Stuart directly on: David McCafferty – david@absolutemts.co.uk, 07713 519206 or Stuart Mitchell – stuart@absolutemts.co.uk, 07711 458297 and they'll be more than happy to help.